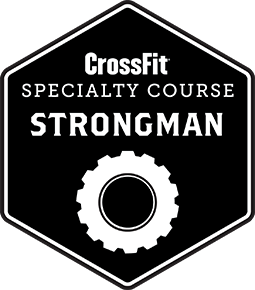 Having the privilege to host and lead these courses is something that we are very thankful for. We absolutely love introducing coaches and athletes to the basics of Strongman and helping them get past any preconceived notions of what Strongman is and who it's for. We also really enjoy helping attendees discover how to appropriately implement this fun and highly effective training method into their programming back home.
The course is non-stop and action-packed. We do some lecturing and demoing of each movement, but then we provide y'all with more than enough time to practice and get very comfortable with the implements and the movements. We break down each primary movement into fundamental progressions then smooth out the steps until everyone is moving with quality and confidence. It doesn't take long - and really, that's the beauty of Strongman:
Strongman movements are the truest form of "functional training". This stuff is already hardwired in each of us and because, deep down in our genetics, we know this stuff, the learning is actually just remembering.
Now, I may be biased, but these courses are an absolute blast! In fact, one of the most common reviews we get after holding a SM Course is that it was the most fun the attendee has had at a certification. That's what we strive for - a fun, action-packed day of moving heavy stuff(with good technique) with a group of cool, supportive people to bring it all together.
If that sounds like something you or someone you know would enjoy, SIGN UP. If you have questions about the course, contact us.
We hope to see you there!